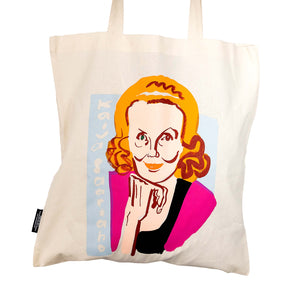 Kaija Saariaho – tote bag
Regular price
18,00 €
0,00 €
Unit price
per
Tax included.
To make some noise about our 10th anniversary, we have released a collection of limited edition t-shirts and tote bags that draw their inspiration from 1980s and 1990s band t-shirts. Our designs celebrate the mega stars of classical music.
The gorgeous and colourful Kaija Saariaho tote bag is the work of Anja Reponen. An illustrator by trade, Roponen's work explores the interface between the figurative and the abstract, between intricacy and simplicity.
"Kaija Saariaho projects this incredibly inspiring combination of strength and fragility. I get a real kick out of putting colours together in an unconventional way, and Kaija does it masterfully with all different shades of red."
These stylish cloth tote bags are sustainably produced by Pure Waste using 100% recycled materials. With Musiikkitalo logo on reverse.
Anja Reponen:
Instagram: @anjareponen
---